Knitting Update: Lady Eleanor and Misty Garden
Well then, it's been a while since I've updated. These two are from the book
Scarf Style
, which is awesome, though I really dislike the pictures. It makes the photographer in me cringe.
On the left is Lady Eleanor, and on the right is Misty Garden, both draped oh so artfully over my Japanese Maple. Misty Garden is done, though I have not blocked it or woven in the ends. The camera made the colours on both slightly washed out, they're both a little more vibrant, but you get the idea.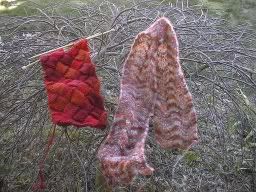 Lady Eleanor is made out of Berocco's "Foliage." It's a thick-and-thin yarn, though not much so. It's also nicely fuzzy, but not overly so. If you look closely at the detail, you can see how my stitches are lopsided. Don't know why that happens, they're not twisted, just lopsided. It's a really fun project, the ever-changing colours and constantly working on new squares satisfies the ADD kid in me. I made mine quite a bit narrower than the pattern called for, wanted more of a scarf than a shawl.When this is done, it'll go to my grandma Betty, who loves red.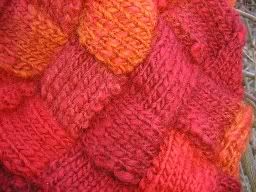 Misty Garden is made out of Blue Moon Fiber Arts' Kidmo, in the Marbles colourway. It's very soft, though also rather fuzzy. I was expecting the colours to end up more like the one in the book, but I actually ended up liking the stripiness of mine. When I block it, I'm hoping to stretch it out so it's longer and narrower. I messed up when I was doing my first few rows on this, and I discovered that ripping this yarn is nearly impossible. There were also a few times when I did too many yarn overs or too many knit two togethers, so I just corrected it by compensating in the next pattern row. Again, it's a pain to frog. This'll be a gift for my aunt Allison.